At Relight, we are committed to build advanced ICT Infrastructure by Consulting that applies technology with innovation and responsibility to achieve the best RoI (Return on Investment).
We specialize in :
Telecommunications (ELV) related services to develop connected & resourceful SMART buildings
 Networking & IT Systems related services to build robust and scalable ICT Network
Integrated communication infrastructure with wired & wireless network
State of the art connectivity to improve,

Energy Efficiency
Occupant's Satisfaction
Building Management Systems
Why Relight?

Our unbiased objectivity in assessing, budgeting, designing and specifying the solution builds trust with our clients
Our up-to-date technology and business skills bring you an unrivalled range of services and support
We always strive to get closer to our customers to better understand business to help them prosper it by providing best-in-class ICT Solutions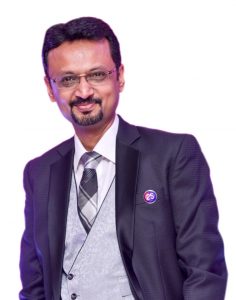 Ketan Kothari
Mr.Ketan Kothari is a strong proponent of quality standards, best-practices and methodologies in the ICT Industry.
He has been involved in the designing and consultancy of some of the largest ICT infrastructure projects in India. Ketan is a thought leader in the diversified ELV / ICT business.